We slashed our carbon emissions targets!
Since becoming Certified Carbon Neutral in December 2012, Merri-bek City Council has been working hard to further reduce our carbon emissions.
For the reporting period between 2019 and 2020 we aimed for 30% less emissions than the baseline year of 2011. Instead, we achieved 69%!
"This is great news for Merri-bek City Council's journey to zero emissions by 2040," says Mayor of Merri-bek Cr Annalivia Carli Hannan.
"We are proud of our long-standing leadership in environmental sustainability. We've been working hard to reduce our emissions across Council's buildings and operations and it's fantastic to see that hard work paying off."
Moreland City Council was the second Victorian local government and the third in Australia to be Certified Carbon Neutral for its corporate operations. We are certified as carbon neutral through the nationally accredited scheme Climate Active.
To achieve and maintain this certification, Council undertakes a continuous improvement approach to carbon management through measuring, reducing, generating and offsetting its emissions.
Getting to 69%
The results for 2019/20 were largely achieved through the Melbourne Renewable Energy Project (MREP). From 1 January 2019, Merri-bek City Council began purchasing all its electricity for Council operations through MREP via the Crowlands Wind Farm, north-east of Ararat.
As a result, all streetlights, Council buildings, public barbecues, electric cars, and public electric vehicle charging stations are now powered by 100% home-grown zero-carbon electricity – slashing Merri-bek City Council's carbon emissions.
"While this result is great confirmation of the work we've done to date, we still have much work to do to achieve zero emissions by 2040. Climate change poses a serious threat to our future and we are already feeling its effects in Merri-bek.
We take seriously our obligation to our community and plants and animals to do everything we can in this climate emergency," " said Cr Carli Hannan.
Towards a fossil-fuel free Merri-bek
Council continues to work on strategies to make further reductions to reach zero carbon. Now that it has phased out all use of fossil fuels for electricity generation, focus is turning to its use of gas.a polluting fossil fuel.
Moreland recently become the first council in Australia to endorse the Fossil Fuel Non-Proliferation Treaty, reinforcing our commitment to phase out fossil fuels in Merri-bek City Council.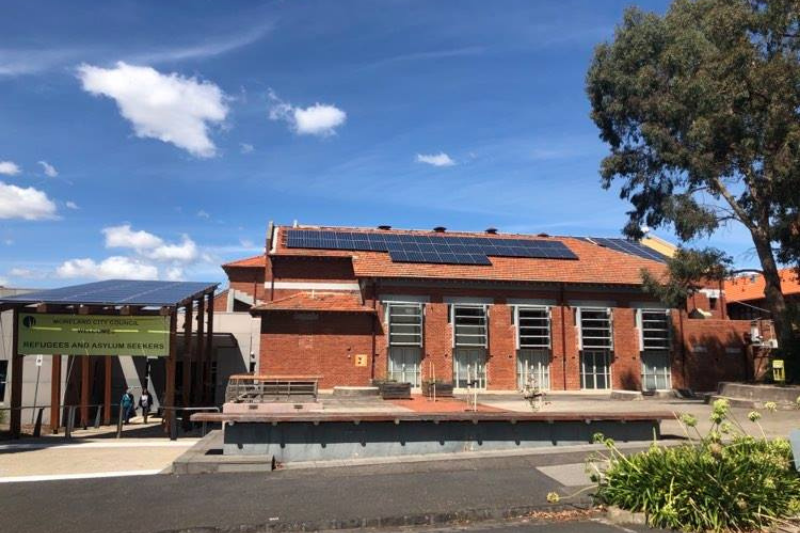 Next steps
"Roughly a third of our carbon footprint is due to gas and most of that use occurs in our four aquatic centres," adds Paul Swift, Merri-bek Council's Zero Carbon Merri-bek Technical Lead.
"We are thrilled with the result we got with Climate Active this last reporting period. Over the next few years we'll continue the emissions reduction journey and given the power used by our aquatic centres, they'll probably be in the mix."
Transport is another area Council will be looking at closely, Paul suggests.
One third of the current light vehicle fleet is electric, and Council will continue to purchase electric vehicles. Council's heavier vehicles, however, its utes and trucks, will also be considered for switching to non-polluting fuels, too.
In the meantime, community support for zero emission fuels continues to grow. Council recently reported that its new Brunswick EV hub, at 13-15 Edward Street, is the busiest electric vehicle charging hub in Australia on the Chargefox network. This is a great opportunity for the community to fill up their cars to improve air quality, and reduce carbon emissions.