New exercise park helps older people work up a sweat
Council has opened its first exercise park for seniors, featuring workout stations designed to strengthen the fitness and balance of older people.
Contributing to a hub of activity for older people, the park is located next to the Coburg Senior Citizen's Centre at 21 Harding Street, Coburg.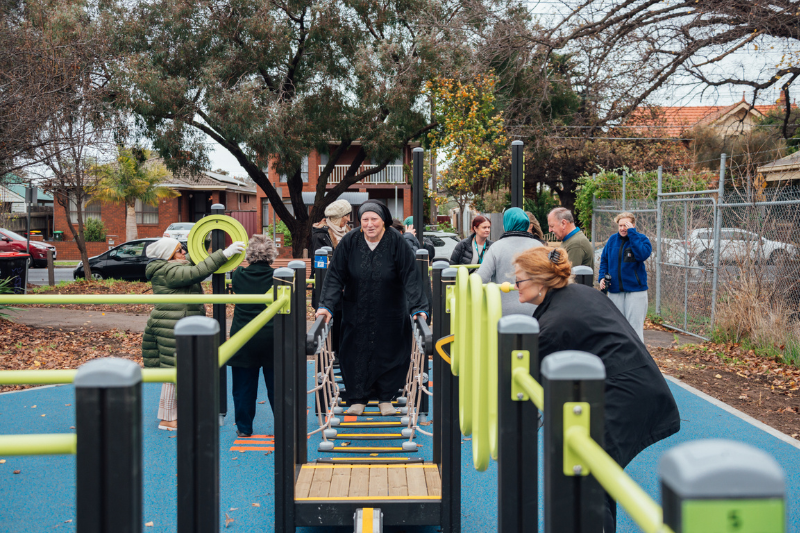 Mayor Mark Riley said the park provides a unique way for seniors to stay fit and active in an outdoor environment.
"I'm delighted that older locals can now work up a sweat doing gentle exercises like push-ups, core strength workouts and walking the balance beam," Cr Riley said.
"The equipment is free to use and is located central to services older people are already accessing."
"In addition to the physical benefits, I hope the park helps Merri-bek seniors maintain friendships and connections with community – which are just as essential to healthy ageing."
In partnership with the National Ageing Research Institute (NARI), Council is running a training program for seniors groups that meet in the Coburg area.
Pauline O'Brien of University of the Third Age said the park will help older people get their bodies moving while having fun.
"It is a bit like rediscovering the fun of a childhood playground. The park will become a place of fun where older people can challenge themselves and get better at things, just the way kids do," Ms O'Brien said.
Ferdi Isnit of the Filipino Social Support Group, which meets in the Coburg Senior Citizen's Centre, said seniors will have something to look forward to.
"This will be beneficial for their health and wellbeing, and encourage social interactions that develop into friendship,' Mr Isnit said.
The equipment is free to all, and onsite signage will provide guidelines for use.